New Study Finds 5 Year Prognosis of Whiplash is Poor.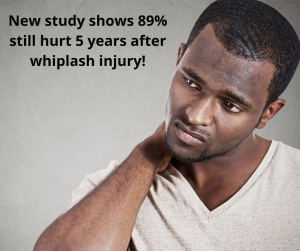 A new study published in June 16, 2022 in the Journal of back and Musculoskeletal Rehabilitation looked at the long term prognosis of whiplash victims, at least 5 years after the injury they found:
* 89.5% of patients still experienced whiplash injury-related neck pain.
* 68.4% of patients had pain scores greater than 3 on the NRS.
* 68.4% of patients were still receiving treatment that included: pain medications, physical modality, and injection procedures
* 73.7% of patients encountered difficulty performing daily life activities and occupational duties.
CONCLUSIONS: The long-term prognosis of patients with whiplash injury-related neck pain was found to be poor.
Many insurance adjusters think whiplash injuries are just a simple strain of the neck muscles. This study demonstrates that they can have significant long term effect on someone's life. What is interesting to me, is that this study does not mention manipulation as one of the treatments.
Two other studies have demonstrated the effectiveness of chiropractic care for whiplash injury.
* The first study revealed a 93% PATIENT IMPROVEMENT!
* The second study revealed a 74-94% PATIENT IMPROVEMENT!
Questions: call our office now at (314) 731-4383.
Park, Donghwi, Kwak, Sang Gyu, and Chang, Min Cheol. 'Five to Ten-year Prognosis of Whiplash Injury-related Chronic Neck Pain: A Brief Report'. 1 Jan. 2022 : 1 – 5.
Khan S, Cook J, Gargan M, Bannister G. A symptomatic classification of whiplash injury and the implications for treatment. Journal of Orthopaedic Medicine 1999;21(1):22-25.
Woodward MN, Cook JCH, Gargan MF, Bannister GC. Chiropractic treatment of chronic whiplash injuries. Injury 1996;27:643-645.