Your First Visit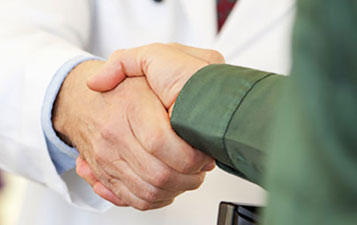 Connecting with a new doctor can be challenging, especially when you are in pain.  Dr. Schmaltz & staff understands this and every effort is made to make your introduction to the office as simple and efficient as possible. To make your visit as easy as possible, please consider the following:
* Call and schedule your appointment, asking to see Dr. Schmaltz.
* Download and fill out the New Patient Introduction forms; click here.
* If you have been in an auto accident please use these forms; click here.
* Arrive 15 minutes before your scheduled appointment to complete the registration process. Bring with you any of the following you may have:
* A list of medications & vitamins you are currently using.
* Any other medical records such as MRI reports.
* Orthotics or braces you may be using.
Auto Accident Victims As well as the above, please bring the following with you if at all possible:
* Police report
* Vehicle damage amount and location
* A written description of how the accident happened
Upon your arrival, you will be warmly greeted by one of our staff. They will assist in the finalizing of your conditions history. Following this, Dr. Schmaltz will see you for your initial consultation. Based on your history and condition, a thorough chiropractic, orthopedic and neurological examination will be performed. Following your exam, if necessary, the appropriate x-ray examination will be performed. Depending upon your exam findings, a physiotherapy modality may be applied for a temporary reduction of the pain and discomfort.
Following this visit, at the earliest opportune time,  a report of findings will be scheduled. Here, Dr. Schmaltz will explain your condition and present a customized treatment plan to not only deal with your problem, but stabilize the underlying process that is causing the problem.
If you are suffering from pain and live in the Hazelwood, Florissant, Berkeley, Bridgeton, Ferguson, Spanish Lakes or North St Louis County and you are looking for a chiropractor, Call Dr Schmaltz' office today at (314) 731-4383 to schedule an appointment.