The Dark Side of Soft Tissue Injuries and Chronic Pain: Pt 2
Sensorimotor control issues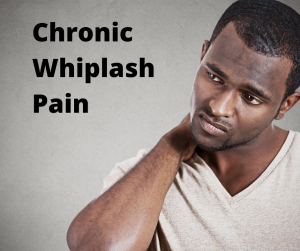 As we mentioned in The Dark Side of Soft Tissue Injuries and Chronic Pain: Pt 1, many who experience a soft tissue injury to the neck do not fully recover. Various research indicates anywhere from 40%(1) – 89%(2) experience chronic pain.
While the process of developing chronic pain after a soft tissue injury can be complicated there are some documented findings that can indicate a poor prognosis for long term pain. One such finding is sensorimotor control deficits.
Individuals that experience chronic whiplash pain typically suffer from other symptoms such as dizziness, unsteadiness, visual problems, abnormal head movement and eye coordination control issues. One common cause is injury to the sensorimotor control system, especially the small joints in the neck.
The sensorimotor control system is made up of the eyes, the inner ears and proprioceptive system, primarily in the facet joints and muscles of the neck. This system connects to the central nervous system (CNS) and under normal situation provide nerve signals from the brain that controls the coordination of the head and eyes to keep the vision focused as well as muscle control that helps to maintain normal posture and movement.  Damage to the facet joints in the neck can result in abnormal nerve input to the CNS. This will then cause the brain to produce abnormal control messages to the muscles of the spine, neck, and eyes. The result is chronic neck issues, dizziness, blurred vision or balance issues.
"Damage to the facet joints in the neck can result in abnormal nerve messages to the brain, causing the brain to send abnormal motor or muscle control messages to the eyes, neck and postural muscles"
What Can Be Done
Two treatments that can help restore sensorimotor control include spinal manipulation and specific proprioceptive exercises that will retrain or reprogram the brain and nervous system.
If you suffer from chronic neck pain, dizziness or balance issues, call us at 314-731-4383 to see how we can help.
Dr. Martin graduated from Life Chiropractic College in Atlanta GA, where he earned his Doctor of Chiropractic degree. He is one of only a few board-certified chiropractic orthopedists in the metro St Louis region. He is a Diplomate of the International Academy of Neuromusculoskeletal Medicine. He uses the latest neuroscience research to make the best diagnosis of the cause of your pain as the starting point for your recovery. Since 1984 he has helped many people find relief from chronic pain or helped those injured in accidents recover.
1. Treleaven J. Dizziness, unsteadiness, visual disturbances, and postural control: implications for the transition to chronic symptoms after a whiplash trauma. Spine (Phila Pa 1976). 2011 Dec 1;36(25 Suppl):S211-7. doi: 10.1097/BRS.0b013e3182387f78. PMID: 22020615.
2. Park, Donghwi, Kwak, Sang Gyu, and Chang, Min Cheol. 'Five to Ten-year Prognosis of Whiplash Injury-related Chronic Neck Pain: A Brief Report'. 1 Jan. 2022 : 1 – 5.
Treleaven J. Dizziness, Unsteadiness, Visual Disturbances, and Sensorimotor Control in Traumatic Neck Pain. J Orthop Sports Phys Ther. 2017 Jul;47(7):492-502. doi: 10.2519/jospt.2017.7052. Epub 2017 Jun 16. PMID: 28622488.