New Patient Introductory Offer
Congratulations! You have activated your discount coupon!
Call now, (314) 731-4383 to schedule an appointment
click on the coupon to the right, save image and print.
Act now! Coupon expires Friday, April 4th, 2014.
What does this offer include?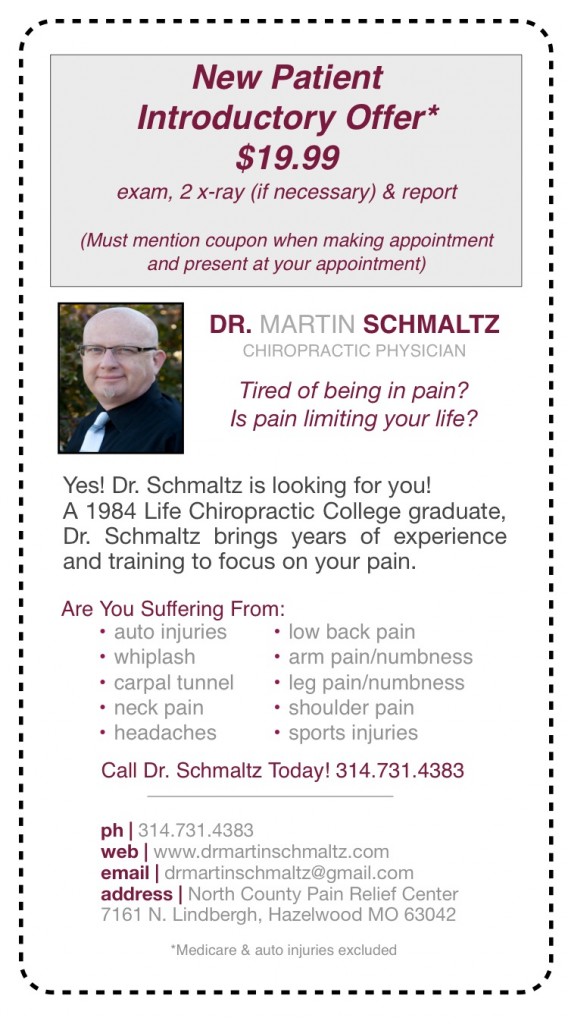 An in-depth consultation about your health and well-being where we will listen…really listen…to the details of your case.
A chiropractic, orthopedic and neurological examination based on your chief complaint and consultation.
The correct x-rays (if necessary) to determine if a spinal problem is contributing to your pain or symptoms.
A thorough analysis and report of your exam and x-ray findings so we can start mapping out your plan to being pain free.
To take advantage of this offer, mention the coupon when you call to make your appointment. Coupon must be presented at time of visit.
** Disclaimer: This is a promotional offer and does not reflect the normal fees for these procedures. This cannot be used in conjunction with workers compensation or auto accident cases as according to State and national guidelines.