Basketball Injuries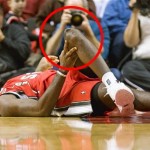 Dr. James Naismith, using a soccer ball and two peach baskets, first introduced basketball to the world in 1891. The basketball of today, with its high-speed and physical aggressiveness, scarcely resembles the original game. With this modern style of play, come many opportunities for injury: it is estimated that there are more than 1.6 million injuries a year associated with basketball.[1]
Common types of injury include: ankle sprains, jammed fingers, twisted knees, deep thigh bruising and overuse injuries of the leg.  As with most injuries the RICE rule is the initial treatment: Rest, Ice, Compression and Elevation.  However, should symptoms or loss of function persist beyond a couple days, care should be sought by a physician skilled in body mechanics (biomechanics) of athletes, such as a sports chiropractor.
Not only will the qualified sports chiropractor diagnose and treat the injury, their care goes far beyond symptomatic relief. True healthcare involves evaluating structural integrity of the body to determine if there were existing weaknesses or imbalances that predisposed the athlete for their injury.
The benefit of the care from a Chiropractic Physician whose focus is on athletes is usually the speed of recovery, diminished disability and future re-injury. The treatment is designed not just to reduce the pain, but also to optimize the injured joint position or alignment and mobility while the ligaments and muscles heal.  This strategy results in the most stable joint possible, thus aiding in preventing future re-injury.
If you or someone you know has injured themselves, do not hesitate to contact our office to schedule an evaluation.
Dr. Martin Schmaltz has had extensive training and over 12 years experience in treating sports related injuries.
---
[1] StopSportsInjuries.org