Back Pain? Acetaminophen not effective according to research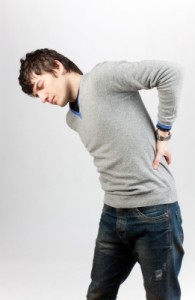 According to new research, acetaminophen is no better at relieving back pain than placebo or sugar pills!
Lower back pain is one of the most common ailments to man and probably the most common source of disability. One of the standard treatments for back pain has been the recommendation to use acetaminophen. Commonly sold as Tylenol, acetaminophen has been included in many treatment protocols because of its few side effects.
In a recent study conducted in Australia, 1,600 people with acute low back pain were assigned to one of two groups. The first received acetaminophen with a maximum dose of 4,000 mg per day. The second received a placebo.  The discovery was that there was no major difference in recovery time between the two groups.  It was found that the recovery time for those taking the acetaminophen was 17 days, while those taking the placebo were 16 days.
Bart Koes of Erasmus MC University Center (coauthor of the accompanying commentary)  states:  "Most people would have thought (acetaminophen) would have some effect, so this was a surprise.  Doctors should monitor people taking acetaminophen to see if the drug actually works."
Chiropractic Most Effective For Back Pain,
An effective alternative for treating back pain is chiropractic care. Many studies have indicated chiropractic care is effective for many types of back or neck pain as well as headaches.
One study revealed " patients with chronic low-back pain treated by chiropractors showed greater improvement and satisfaction at one month than patients treated by family physicians." (1) Another study  demonstrated that ""Acute and chronic chiropractic patients experienced better outcomes in pain, functional disability, and patient satisfaction." (2) Chiropractic as been proven to be a cost effective alternative to medical care for back pain.
If you have been suffering from back pain, you owe it to yourself to get a chiropractic opinion. All you have to lose is your pain! Call our office at (314) 731-4383  or contact us to schedule an evaluation.
………………………
Dr. Martin Schmaltz is a 1984 graduate of Life chiropractic college and has years of experience and training in helping people with all forms of back pain as well as other conditions like carpal tunnel, shoulder issues, headaches and car accident victims.  He is conveniently located in the Hazelwood Office Complex at 7161 N Lindbergh Blvd in Hazelwood MO 63042
1. Nyiendo et al (2000), Journal of Manipulative and Physiological Therapeutics
2. Haas et al (2005), Journal of Manipulative and Physiological Therapeutics